"I was looking for a Dance School that taught a more serious ballet program and I found it here at KHDANCE. I think it is the best Ballet program in the City!"
CJ 2015.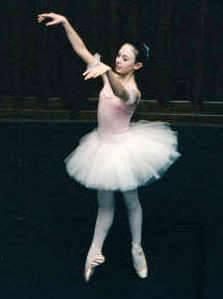 Director
Karin Hobby

Royal Ballet School trained Karin Hobby has many years experience in the dance education field. She opened the doors of the highly regarded Karin Hobby Dance Academy in 2009, a school more consistent with her individual teaching philosophy and expertise after

selling her interest in North London Dance Centre which she founded in 1997,

Since, Karin Hobby Dance Academy has flourished and established a solid and respected place in the world of dance. Dance is a passion and inspiring that love for dance is inherent in her teaching. She received her teacher training at the prestigious Royal Ballet School in London, England. Her teachers there included Joan Lawson, Julia Farron, Lynn Wallis, Jocelyn Mather and Ninette de Valois. Cecchetti and Royal Academy syllabi were taught in addition to Royal Ballet repertoire, National, Character, Mime, Benesh Notation, Music, Eurythmics and Pointe. Karin is also a licensed physiotherapist* with her Masters of Science degree. She has lectured in the under-graduate, and graduate program in Physical Therapy at UWO in the field of rheumatology and has published and presented in the area of dance injuries. Has tutored the RAD Certificate in Ballet Teaching Studies for the Healthy Dancer Module for the past 7 years. Although not all dance injuries are preventable we can strive to reduce the incidence and the impact. Karin is a registered teacher with the Royal Academy of Dance (RAD Teaching Diploma - Distinction) and an Associate with The Cecchetti Society of Ballet (UK and Canada). She has attended numerous National Ballet of Canada teacher workshops, studied the Vagonova method of training (Russian) and all levels of the Bonnie Popodopolaus 3,4 and 5 year old courses through the National Ballet School Toronto. Additionally she has studied teaching in Vancouver (Richmond Academy), Winnipeg (RWB), New York and Seattle (Pacific Northwest Ballet). She previously taught in the Western University Dance Program for 17 years as well as at other major London private studios. Performing groups under Karin's direction have presented a Nutcracker performance each December in local London Schools and more recently, touring Productions of Cinderella, The World of Oz, Alice, Our Little Mermaid and Sleeping Beauty. She teaches all levels at the school. Former students have gone on to The National Ballet of Canada, The National Ballet School, Royal Winnipeg Ballet School, Quinte Ballet School, Arts Umbrella BC, Melbourne Ballet. Opera Atelier Ballet, Stratford Festival Theatre, Alberta Ballet School, and the Ryerson University Dance Program..Most recently she has worked to achieve Certification in Bone Fit Training through Osteoporosis Canada. She has also independently developed the Physiotherapy programs in Rheumatology and Pain at St Joseph's Healthcare London.


*Physiotherapist and related words are official marks used with permission by registered physiotherapists.