KARIN HOBBY DANCE ACADEMY
London Ontario's foremost dance school. A leader in Dance Education with some of the regions most respected teachers of dance.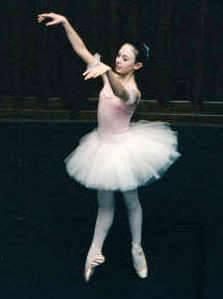 Teaching Faculty
Karin Hobby
Royal Ballet Schoo

l trained with many years of experience in the dance education field. She opened the doors of the highly regarded Karin Hobby Dance Academy in 2009, Since that time it has flourished and established a solid and respected place in the world of dance. Teacher training at the prestigious Royal Ballet School in London, England. Studied with Joan Lawson, Julia Farron, Lynn Wallis, Jocelyn Mather and Ninette de Valois. Cecchetti and Royal Academy syllabi, Royal Ballet repertoire, National, Character, Mime, Benesh Notation, Music, Eurythmics and Pointe. Licensed physiotherapist* with her Masters of Science degree. On the Physical Therapy Faculty at Western for more than 10 years lecturing in the under-graduate, and graduate program (Rheumatology) Published and presented in the area of dance injuries- most recently in the summer edition of Vim and Vigour Magazine 2013! Tutored the RAD Certificate in Ballet Teaching Studies for the Healthy Dancer Module for 7 years. Registered teacher with the Royal Academy of Dance (Teaching Diploma - Distinction) and an Associate with The Cecchetti Society of Canada and the ISTD (UK). Attended numerous National Ballet of Canada teacher workshops, studied the Vagonova method of training (Russian) and all levels of the Bonnie Popodopolaus 3,4 and 5 year old courses through the National Ballet School Toronto. Taught in the Western dance program for 17 years as well as at other major London private studios. Her Performing groups have presented The Nutcracker each December in local London Public and Catholic Schools and touring Productions of Sleeping Beauty, Alice in Wonderland, Cinderella and The World of Oz. Teaches all levels at the school. Former students have gone on to The National Ballet of Canada, The National Ballet School, Royal Winnipeg Ballet School, Quinte Ballet School, Arts Umbrella BC, Melbourne Ballet. Opera Atelier Ballet, Stratford Festival Theatre, and the Ryerson University Dance Program..
Crystal Clackett
Ms Clackett returns to KHDANCE for her fourth teaching year. She has danced professionally with the Pavlova International Ballet in Italy and was part of the Aspirant Summer Program at The Royal Winnipeg Ballet School. She holds her Advanced I Cecchetti Ballet Certificate and Advanced 2 Royal Academy of Ballet Certificate 2014 trained under Karin Hobby. Has studied Ballet, Contemporary, Modern and Jazz. extensively at The Quinte Ballet School. Sge undertook BATD Tap exams. and Russian Training in Toronto and Italy. She is currently teaching Ballet, Tap, Jazz and Modern at KHDANCE. Ms Clackett is also a licensed Paralegal.
Stephanie Brown

Stephanie Brown maintains a busy schedule joining the teaching team whilst continuing Advanced dance studies at KHDANCE. Currently holds her Intermediate RAD exam and her Grade 8 Award with Distinction . Performed in annual Nutcracker performances throughout London Elementary schools for the past 6 years. She is an expert on bun making and photography among other talents and manages the KHDANCE Social Media. Stephanie danced the role of The Lilac Fairy in Sleeping Beauty, Ursula in the KHDANCE production of Little Mermaid 2014, The Red Queen in Alice in Wonderland 2013, the role of Cinderella in the 2010 KHDANCE production and
Dorothy in the 2011 KHDANCE The World of Oz production.
Morgan Smith
Morgan Smith joined Karin Hobby Dance Academy in 2015 bringing dynamic energy and innovation to our Jazz and Modern programs Taught and trained at the recognized PSB Dance Academy in Toronto she has attained her Cecchetti Advanced 1 and RAD Intermediate Ballet levels. She was part of the Profile Dance Company and also performed at the Pan Am Games Opening Ceremony. Currently she is in her third year of Kinesiology at Western University and is part of the Western Dance Programs.
Courtney Kowal
Ms. Kowal returns to KHDANCE this year. She achieved her Advanced Cecchetti Ballet while she trained in Toronto at the Sean Boutilier Academy of Dance in Ballet, Jazz, Tap and Lyrical. Courtney brings her stunning technique and fresh ideas to share with our students! She is currently in her fourth year of studies at Western University and is working closely with the Director in the ballet training program at KHDANCE as well as higher level jazz.
Laura Clausi

Ms Clausi joins KHDANCE this year having completed her Bachelors Degree in Kinesiology and Physical Education through Laurier University and is in her first year of The Faculty of Education at Althouse College with Western University. She trained in Russian Ballet.
Christina Kaszuba
Ms Kaszuba rejoins KHDANCE this year for her fifth year. She holds her Gold Medal Ballet Award through The Western Conservatory of Ballet. Christina has a strong background in Drama having worked with Original Kids in London for many years. You may have seen her as The Duchess in the KHDANCE production of Alice in Wonderland and in The 2014 production of Little Mermaid.. She has also performed as Drosselmeier in KHDANCE Nutcracker. She enjoys working with the junior jazz and ballet having studied teacher training with Karin Hobby..She is currently in graduate studies at Western University.
Rachel Kaplan
Ms Kaplan joins KHDANCE this year with a strong background in Russian Ballet, Contemporary and Jazz. She was a competitive Dancer in Toronto with JCB Danceworks. She is currently in Management and Organizational Studies at Western University
Sabrina Stashin
Ms Stashin joins us this year. She has her Associate level Teacher Certification with the BATD in Acrobatic Arts as well as Tap and has studied RAD Ballet up to the Advanced Level at the Joanne Chapman School of Dance.
Director
|
Assistants
Contact